Everything is ready for the eighth edition of the Sea Dance Festival – the summer festival finale and the sea music adventure starts this Friday! Leading world and regional music stars of the electronic, trap/hip hop and pop scene, such as Nina Kraviz, Anfisa Letyago, Konstrakta, Shouse, Mind Against, Senidah, Dubioza Kolektiv, Marko Louis and others who hold the very top of the music scene.
In the following article you will find all the information you need for an ultimate festival experience and entertainment.
TICKETS
There is a very limited amount of Sea Dance festival tickets available, so hurry up and get yours before they are sold out! All the info on current prices as well as ticket selling points can be found in the Tickets section.
Visitors can buy tickets at the festival each day from 12 pm to 3 am.
VIP SECTION TABLE RESERVATION
VIP reservation service:
E-mail: vip@seadancefestival.me
WhatsApp: +381654202007
VOUCHER EXCHANGE
Sea Dance festival voucher exchange points are open from Friday, August 26 at 10 am in order for the visitors to avoid queues while waiting to get their festival wristbands. Daily tickets are not exchanged for wristbands.
Working hours of voucher exchange points for festival tickets are:
Friday, August 26, from 10 am to 3 am
Saturday August 27, from 2 pm to 3 am
Sunday August 28, from 5 pm to 3 am
Working hours of voucher exchange points for VIP tickets are:
Friday, August 26, from 4 pm to 3 am
Saturday, August 27, from 5 pm to 3 am
Sunday September 28, from 5 pm to 3 am
E-ticket needs to be printed out on a white A4 sized paper and shown while entering the festival venue. E-ticket which is not printed out is not valid.
A personal document is required during the exchange process for the purpose of determining one's nationality.
Due to the emergence of resellers, we appeal to visitors to purchase festival tickets at the official retail spots or at the festival entrance, in order to avoid potential problems.
The wristband placed on your left arm is valid for one person only and allows only one entrance per each festival day, from 7pm to 3am.
Taking the wristband off is not allowed during the festival and each damaged, or in any other way counterfeit or compromised wristband becomes invalid without the right to replace it. Once you take the wristband off, it becomes invalid.
Transferring the wristband onto another person, or any other form of unscrupulous usage is not allowed, with the organizer holidng every right of control and sanctioning in case of ticket abuse.
ENTRANCES
Sea Dance Festival gates open each day at 7 pm and close at 3 am the following day.
We appeal to visitors to come to the festival early in order to avoid lines at the gates. Entrance to the festival is allowed only at clearly marked and secured entrances, with a ticket or accreditation only.
You can enter the festival only once during each festival day. Once you leave the festival venue, you will no longer be allowed to enter again.
According to the Law of the State of Montenegro, everyone is obliged to carry a personal document with them at all times. In addition to festival security, festival entry is controlled by the police in order to prevent smuggling of prohibited items and substances into the festival.
TIMELINE, LINEUP AND MAP
A detailed timeline* of this year's Sea Dance festival is available here.
You can view this year's Sea Dance festival lineup here.
You can vew the festival map below: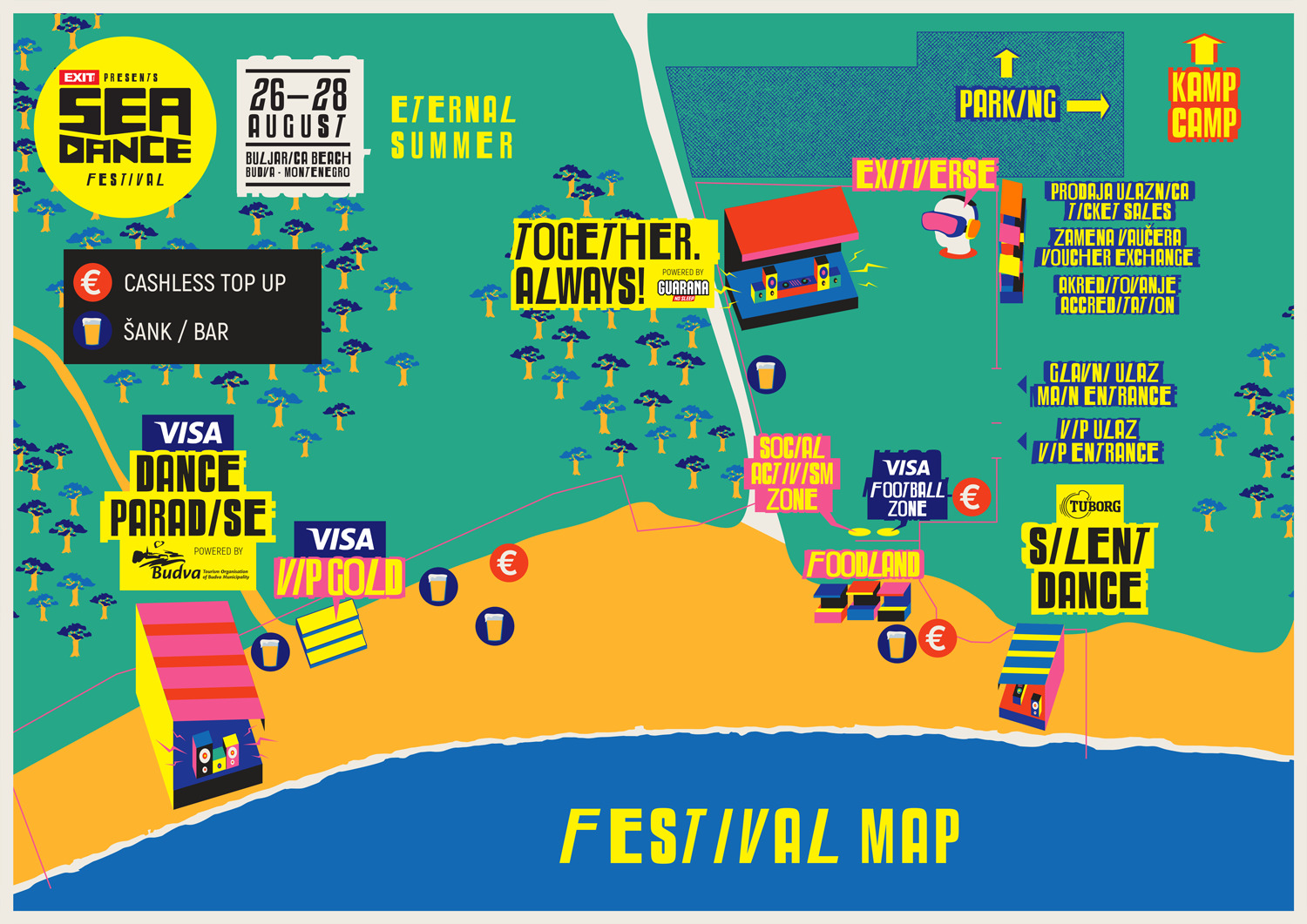 During the festival the venue will feature billboards with precise maps of all stages, info stands, first aid, etc. Printed version of festival map and timeline will be available at Sea Dance info stands.
*Timeline is subject to change.
SEA DANCE ACCOMMODATION
Current info on all available accommodation options during Sea Dance festival can be found here.
SEA DANCE SHUTTLE TRANSPORT
Here you can get all the info on shuttle transport during Sea Dance festival from Budva and Bar to Buljarica.
We urge all visitors to use organized transport clearly marked with the "Sea Dance transport" sign, instead of using their personal vehicles in order to avoid traffic jams. This is why we are providing all our visitors with bus transport from all nearby Montenegro towns.
AMENDED TRAFFIC REGIME
We urge all drivers to follow the Temporary traffic signalization for traffic regulation during the Sea Dance festival, from August 26 to 29.
SEA DANCE FESTIVAL PAYMENT CARD
The Festival Payment Card* is the official and exclusive payment system for foods, drinks and other products at Sea Dance Festival. You can get your Festival Payment Card at clearly marked top-up spots at the festival where you can top it up with an amount of your choice.
Read more about the Festival Payment Card here.
SEA DANCE FESTIVAL MOBILE APP
Festival-goers can get all the important info via the official Sea Dance Festival app!
A complete lineup, photo gallery, experiences and chatting with other fans are available by clicking this link.
SEA DANCE FESTIVAL RULES
Here you will find a list of things you can bring to the festival venue as well as things which are for forbidden:
YES – backpacks (max. size – school backpack)
YES – hats and caps
YES – lighters
YES – cell phones and tablets
YES – sunglasses
YES – cigarettes and electronic cigarettes
YES – small umbrellas
YES – raincoats
YES – contact lenses liquid
YES – photo and video cameras (with an approved press pass)
YES – insulin (with a diabetes documentation and personal documents)
YES – medicine (with an original doctor's report and original packaging)
NO – drugs and substances
NO – knives and other weapons
NO – bottles and cans
NO – instruments
NO – food and beverages bought outside of the festival venue
NO – tents
NO – pets
NO – large umbrellas
NO – covers
NO – selfie sticks
NO – GoPro camera sticks
NO – GoPro cameras
NO – drones
NO – banners expressing hate speech regarding religion, race, sexual orientation etc.
NO – deodorants and perfume bottles
NO – power banks and chargers
The list of allowed and unallowed things you can bring to the festival venue is only a recommendation by the Organizer in order for the visitors to have a pleasent festival experience. Montenegro police service which secures the whole festival venue has the last word when deciding on what is allowed or unallowed to bring to the festival.
LOST & FOUND
The Lost and Found counter is situated at the festival's main entrance at voucher exchange point, where you can bring anything you found at the festival if you assume someone might have lost it (personal document, cell phone, wallet etc.) and also claim items you might have lost yourself. You can do so every day from 7 pm do 6 am.
After the festival, all lost items can be found at the Budva Security Centre.
PARKING
Public parking zones in Buljarica are divided into two zones: blue (5 EUR) and red (10 EUR).
The festival venue has a VIP parking zone which charges parking 10 EUR.
FIRST AID
At Sea Dance emergency aid services and the fire department are on duty all three nights.
Depending on the volume of sound at the concerts, there is a risk of hearing impairment and other health problems. Depending on the type and magnitude of light effects, there is a risk of visual impairment and other health problems.
In case you need any help, you can contact security personnel in recognizable fluorescent vests.