The sixth edition of Sea Dance Festival is upon us!
Coming to the turquoise Buljarica beach from August 30 to September 1 are 21st centuries biggest producer David Guetta, German's chart topper Robin Schulz, French rock-house duo Ofenbach, British hit trio Disciples as well as techno superstars Sven Väth, Richie Hawtin, Eelke Kleijn, Helena Hauff and Recondite, along with regional aces such as Darko Rundek, Senidah, Who See, Surreal, Tijana T, Marko Nastić and dozens more.
Here you'll find all the important info you might need in the upcoming days for an unforgettable Sea Dance festival experience!
TICKETS
There is a very limited amount of Sea Dance festival tickets available, so hurry up and get yours before they are sold out! All the info on current prices as well as ticket selling points can be found in the Tickets section.
SEA DANCE SHUTTLE TRANSPORT
Clik here to get all the info on shuttle transport during Sea Dance festival from Budva and Bar to Buljarica.
Click here to find out how you can get to Buljarica from other cities in Montenegro and check out the info on times and ticket prices.
We urge all visitors to use organized transport clearly marked with the "Sea Dance transport" sign, instead of using their personal vehicles in order to avoid traffic jams. This is why we are providing all our visitors with bus transport from all nearby Montenegro towns.
VOUCHER EXCHANGE
Sea Dance festival voucher exchange points are open from Friday, August 30 at 4 pm in order for the visitors to avoid queues while waiting to get their festival wristbands. Daily tickets are not exchanged for wristbands.
Working hours of voucher exchange points for festival and VIP tickets are:
Friday, August 30, from 4 pm to 3 am
Saturday, August 31, from 5 pm to 3 am
Sunday September 1, from 5 pm to 3 am
E-ticket needs to be printed out on a white A4 sized paper and shown while entering the festival venue. E-ticket which is not printed out is not valid.
A personal document is required during the exchange process for the purpose of determining one's nationality.
Due to the emergence of resellers, we appeal to visitors to purchase festival tickets at the official retail spots or at the festival entrance, in order to avoid potential problems.
The wristband placed on your left arm is valid for one person only and allows only one entrance per each festival day, from 5pm to 4am.
Taking the wristband off is not allowed during the festival and each damaged, or in any other way counterfeit or compromised wristband becomes invalid without the right to replace it. Once you take the wristband off, it becomes invalid.
Transferring the wristband onto another person, or any other form of unscrupulous usage is not allowed, with the organizer holidng every right of control and sanctioning in case of ticket abuse.
VIP SECTION TABLE RESERVATION
To book a table in the VIP section email us at protocol@exit-festival.com.
ENTRANCES
Sea Dance Festival gates open each day at 10 am and close at 4 am the following day. Entrance is free of charge during the daytime program from 10 am until 5 pm. After 5 pm it is possible to enter the festival only with a festival wristband, or a printed daily ticket.
We appeal to visitors to come to the festival early in order to avoid lines at the gates. Entrance to the festival is allowed only at clearly marked and secured entrances, with a ticket or accreditation only.
You can enter the festival only once during each festival day. Once you leave the festival venue, you will no longer be allowed to enter again.
According to the Law of the State of Montenegro, everyone is obliged to carry a personal document with them at all times.
In addition to festival security, festival entry is controlled by the police in order to prevent smuggling of prohibited items and substances into the festival.
TIMELINE, LINEUP AND MAP
A detailed timeline* of this year's Sea Dance festival is available here.
You can view this year's Sea Dance festival lineup here.
You can vew the festival map by clicking here.
During the festival the venue will feature billboards with precise maps of all stages, info stands, first aid, etc. Printed version of festival map and timeline will be available at Sea Dance info stands.
*Timeline is subject to change.
SEA DANCE ACCOMMODATION
Current info on all available accommodation options during Sea Dance festival can be found here.
WEATHER FORECAST
All weather forecast websites are unanimous – Buljarica is going to have sunny skies, bright nights and no rain from August 30 to September 1. It's a perfect setting for daily events at the beach followed by night-time parties at the festival!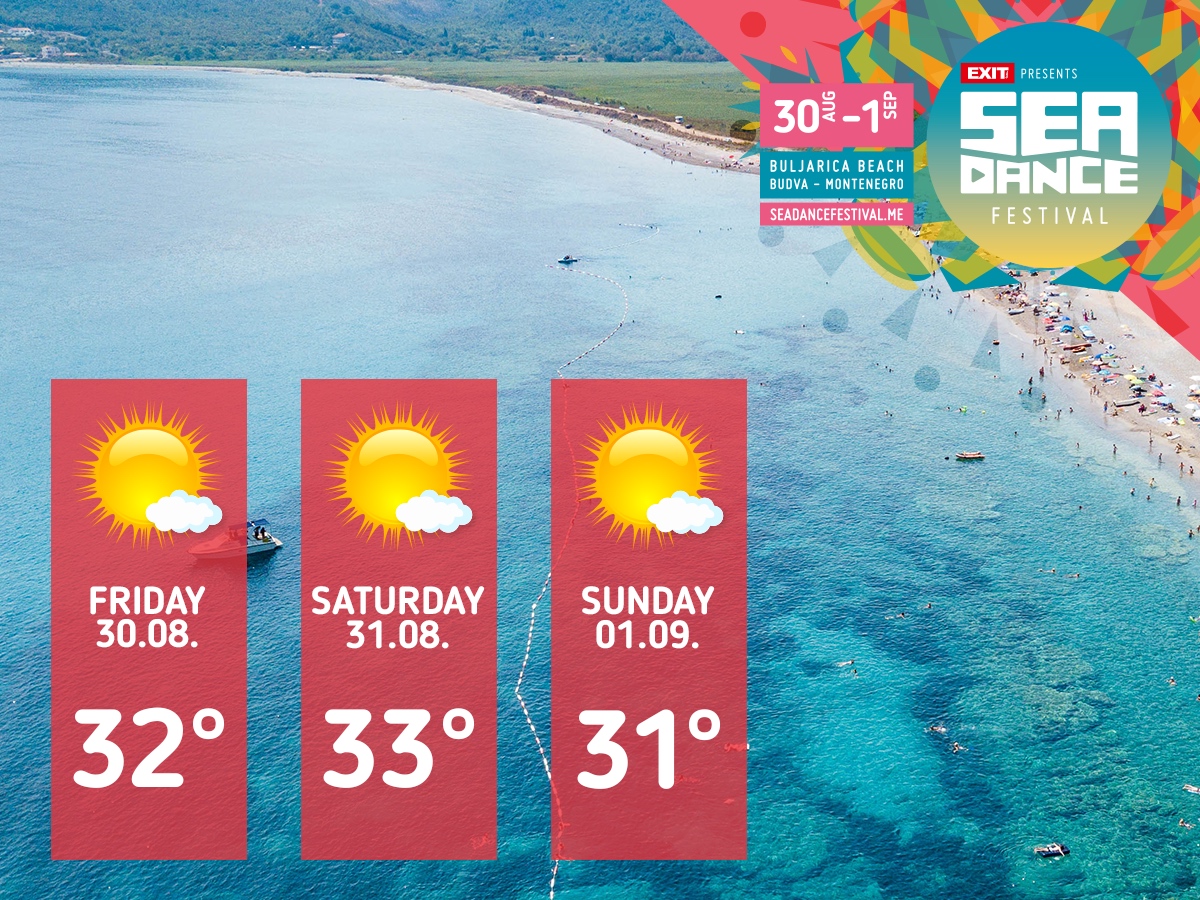 TAXI SERVICE
The official Sea Dance TAXI transport is OK Palma Taxi, phone numbers:
+38219550
+38219577
Viber: +382 68 019 577
Taxicab stand for all festival-goers is located in the street next to the "Magazini" restaurant (Buljarica).
*Guaranteed price for Sea Dance visitors from Budva to Buljarica is 24 EUR for a one-way ticket, and 7 EUR for a one-way ticket from Petrovac to Buljarica.
AMENDED TRAFFIC REGIME
We urge all drivers to follow the Temporary traffic signalization for traffic regulation during the Sea Dance festival, from August 30 to September 1.
For all visitors coming from Budva there will be an organized transport. Departure from Budva is organized at the stop at the Liberty Square (Tre Canne), while the other terminal is at the turning towards the business center "Kopaonik" which is located on the right of the Budva-Bar (Buljarica) road. The official operator is L.L.C. "Mediteran Express" Budva and the ticket price is 3,5 EUR.
SEA DANCE FESTIVAL PAYMENT CARD
Sea Dance Addiko Payment Card is the official payment mean for drinks, food and souvenirs at Sea Dance festival. Payment cards are available at all festival top-up locations.
All Addiko Mobile Montenegro app users, as well as authorized Addiko E-Banking users, can register and are then entitled to a 5-15% discount while paying for drinks at the festival*. More info on the festival payment card can be found here.
When getting your card, you need to pay a deposit in the amount of 1,25 EUR which will be returned to you within the refund at the end of the festival. The minimum amount of money you can top-up your card with is 5 EUR and the maximum amount is 200 EUR.
After ordering your favorite food or drink, you can pay for it by simply placing the card against the card reader available at every bar.
You can also do this to check your card balance at any moment. Make sure that no one is paying at the moment you are checking your card balance, as the amount could be taken off your card.
Any leftover amounts can be refunded at any top-up location including the 1,25 EUR deposit. Maximum amount which can be refunded is 50 EUR.
For all Sea Dance festival and camp visitors at the Buljarica beach Addiko bank provided an ATM which will be at disposal to all festival-goers during the festival.
*The discount is not valid for special offers or payment at the VIP zones.
REFUND
It is possible to withdraw unused funds at any moment at all cashpoints. All top-up locations at the festival can refund up to an amount of EUR 50.
It is necessary that the refund is done at the festival until Monday, September 2nd at 6pm, since refunds will not be available afterwards!
List of refund locations and available hours:
Top-up locations at Addiko Main Stage powered by Turistička organizacija Budve: 7pm – 6am
Top-up place at No Sleep Sea Dance: 10pm – 7am
At the voucher exchange point: Monday, September 2nd, 7am – 6pm
SEA DANCE FESTIVAL MOBILE APP
Festival-goers can get all the important info via the official Sea Dance Festival app!
A complete lineup, photo gallery, experiences and chatting with other fans are available by clicking this link.
SEA DANCE FESTIVAL RULES
Here you will find a list of things you can bring to the festival venue as well as things which are for forbidden:
YES – backpacks (max. size – school backpack)
YES – hats and caps
YES – lighters
YES – cell phones and tablets
YES – sunglasses
YES – cigarettes and electronic cigarettes
YES – small umbrellas
YES – raincoats
YES – contact lenses liquid
YES – photo and video cameras (with an approved press pass)
YES – insulin (with a diabetes documentation and personal documents)
YES – medicine (with an original doctor's report and original packaging)
NO – drugs and substances
NO – knives and other weapons
NO – bottles and cans
NO – instruments
NO – food and beverages bought outside of the festival venue
NO – tents
NO – pets
NO – large umbrellas
NO – covers
NO – selfie sticks
NO – GoPro camera sticks
NO – GoPro cameras
NO – drones
NO – banners expressing hate speech regarding religion, race, sexual orientation etc.
NO – deodorants and perfume bottles
NO – power banks and chargers
The list of allowed and unallowed things you can bring to the festival venue is only a recommendation by the Organizer in order for the visitors to have a pleasent festival experience. Montenegro police service which secures the whole festival venue has the last word when deciding on what is allowed or unallowed to bring to the festival.
LOST & FOUND
The Lost and Found counter is situated at the festival's main entrance, where you can bring anything you found at the festival if you assume someone might have lost it (personal document, cell phone, wallet etc.) and also claim items you might have lost yourself.
After the festival, all lost items can be found at the Budva Security Centre.
PARKING
Location A: Parking across the restaurant Magazini, on the right side from the M-2 road when coming from Bar. Price: 5€
Location B: Parking at the left and right side of the brand new road, on the right side of the M-2 road when coming from Budva. Price: 5€
Location C: Parking next to the substation near the festival venue. Price: 10€
FIRST AID
At Sea Dance emergency aid services and the fire department are on duty all three nights.
Depending on the volume of sound at the concerts, there is a risk of hearing impairment and other health problems. Depending on the type and magnitude of light effects, there is a risk of visual impairment and other health problems.
In case you need any help, you can contact security personnel in recognizable fluorescent vests.